Train Transfers To and From Lamezia Terme Airport



Lamezia Terme International Airport Train Transfers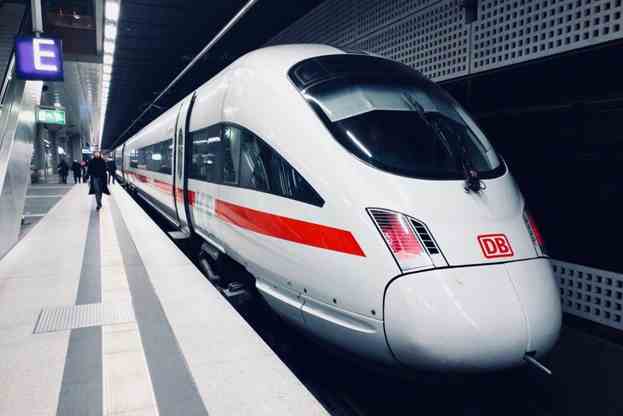 Lamezia Terme is just 3 km distance from the airport and within 1 km there is an exit from Lamezia Terme onto the motorway A3 for onward travel by car, allowing easy access to the airport from all over Calabria.
Lamezia Terme International Airport offers domestic and international destinations to air passengers. Major airlines operating out of this airport are Ryanair, Monarch, Air Italy, Alitalia, Easyjet, Air France Air Berlin, Germanwings, KLM, and Helvetic Airways among others.
There's just one modern and well equipped terminal building serving both arrivals and departures. Air passengers have the use of banks with ATM's for cash, have access to a business center with copy and fax services, computers and internet access as well as 4 meeting rooms, a First Aid station, a tourist information point, a VIP Lounge, restaurant, cafe and snack bar for dining as well as many shopping facilities and a Lost and Found desk, in case they have lost or mislaid their luggage.
Some well-known car hire companies operate out of the airport and their car rental stations can be found in the Arrivals hall in the terminal building. Avis, Europcar, Maggiore Rent, Budget, Hertz, Europe Assistance, Italy by Car and Sicily by Car, Thrifty, Travelcar and Sixt are just some of the reliable companies providing car hire to passengers.
There is no train station serving the airport, however, a bus or taxi can take you to the nearest train station in just a few moments, as the train station is only 2 km away from Lamezia Terme International Airport. An electric shuttle service operates every 20 minutes between the airport and the train station at St. Eufemia.
Trains from Lamezia Terme International Airport's nearest train station at St. Eufemia are part of an extensive rail network criss-crossing Calabria and the rest of Italy. Italian and European rail travel is fast, modern and very comfortable. Eurostar, Trenitalia and Eurail are part of this vast rail network and air passengers alighting at Lamezia Terme International Airport can look forward to onward travel by rail to Rome, Florence, Naples and Milan as well as Sicily and destinations further afield in Switzerland, France, Belgium or Germany.
Lamezia Terme International Airport trains for persons under 26 years of age can be very economical, as there are a number of young persons discounted rail passes available. With a Eurail pass valid for between 14 days and a whole month depending on the country option chosen you can see most of Europe in an economical and very comfortable way.
Other discounts are also available and over the last few years, France and Germany have started to link up their discounted rail travel offers with their European neighbours and some amazing deals will allow you to discover Europe by coach and rail with excellent and fairly cheap hotel accommodation thrown into the bargain.
Reservations for "ordinary" rail travel, meaning a single trip to one destination or a return journey to that one destination, can easily be booked on line and usually this is the cheapest option also. Rail passes may require you actually visiting a train station in the country you are travelling in, but you can buy Eurail tickets online. You will need to pay the additional mandatory fee and make the reservation, if you wish to use high speed trains.
For long distance rail travel it is often advisable to book a sleeper train, starting your journey after 19.00 hours and thus saving on hotel accommodation. If you need to leave heavy luggage at one station for a couple of days while you're out exploring a city, then this is no problem either, as most stations have secure lockers of varying sizes and some have even a luggage service, where you can leave your suitcases with the railway station personnel for a small charge.
Taking trains from Lamezia Terme International Airport's nearest rail station St Eufemia can be a wonderful way to discover the "real" Calabria, as you're far more likely to get into a conversation on a European train or bus than you are on a plane. Most personnel at the ticket offices speak English, but if not, write down the destination you wish to travel to and with the help of a basic dictionary you should be able to tell the person at the ticket office, whether you want a single or a return ticket.
Lamezia Terme International Airport trains covering long distance journeys will have snack bars on board. These types of trains are the Alta Velocitá trains – high speed trains that connect Italy's main cities and towns.
The Frecciarossa trains link the cities of Salerno, Naples, Rome, Bologna, Milan and Turin and zoom through the Italian countryside at 220 miles per hour speeds. Trains linking up with rail travel in France, Belgium, the Netherlands and Germany will often have internet, telephone and even fax services on board.
The Frecciargento trains are almost running a sedate service at maximum speeds of just 155 miles per hour. These trains link Lamezia Terme and Reggio Calabria and further afield Rome to Venice, Verona, Bari and Lecce.
More leisurely still are the Frecciabianca trains, traversing Italy at a mere 125 miles per hour speeds. They link Milan in the north of Italy to Venice in the south, cover Udine e Trieste and Genoa as well as Rome.
Finally, the more traditional intercity trains connect smaller and large cities, covering some 200 different destinations in Italy with 86 daily connections.
For further information about Lamezia Terme International Airport, please visit the airport's official website at www.sacal.it or visit www.trenitalia.com