Car Rental at Lamezia Terme Airport
UNBEATABLE VALUE CAR RENTAL
Best For Families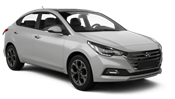 Best For Low Budget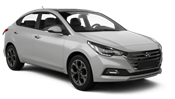 Best for Couples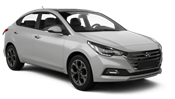 Free Amendments | Free Cancellations | No Card Fees
Located in the Calabria region, Lamezia Terme International Airport can be found, where the Italian "boot" has its toes, roughly opposite the "heel". The city Lamezia Terme itself is just 3 km from the airport and within just 1km there is an exit onto the motorway A3 for onward travel by hire car to destinations within Calabria and beyond.
Some well-known car rental companies operate out of the airport and their car hire stations can be found in the Arrivals hall in the terminal building. Lamezia Terme International Airport arrivals should check at the time of booking, when their hire car needs to be returned, as office hours vary slightly from company to company.
List of all car rental companies
Car hire Lamezia Terme International Airport companies are Avis, Europcar, Maggiore Rent, Budget, Hertz, Europe Assistance, Italy by Car and Sicily by Car, Thrifty, Travelcar and Sixt among others. The closest cities to visit with a hire car are Tropea, Soverato, Pizzo, Vibo Valentia and Cantanzaro among others.
With car rental at Lamezia Terme International Airport you will find it easy to travel around the many churches and historic monuments in the area, especially around Sambinase di Lamezia Terme, which is home to many beautiful churches and it can be a little exhausting exploring them all on foot or by public transport. Saint Pacrazio's church in particularly is a favourite with tourists for its gorgeous Mattia Preti paintings, many statues and beautiful frescoes.
The city of Reggio Calabria ranks as Calabria's oldest and largest city. Here tourists can enjoy panoramic sea views and visit splendid beaches; the city's streets are lined by beautifully restored Art Nouveau buildings and on a hot summer's day you might enjoy a stroll through the lovely botanical gardens.
Reggio Calabria has a 3,000 year-old history, which is displayed in the spectacular National Museum of Magna Grecia. The museum is home to many finds from the Greek colonists who once made their home in the region and the finds on display include the magnificent Greek Raice bronzes, which are believed to date back to 460 to 430 BC. Reggio Calabria is also home to a huge sea port dealing with container shipping, as well as having its own airport.
There is no train station at Lamezia Terme International Airport, however, the station is only 2 km away, should you prefer to go on a long distance journey in Italy by train rather than driving in Italy for longer distances.
Travelling to and from the airport by hire car is fast and convenient because of the excellent motorway connections available at the airport. Car hire Lamezia Terme International Airport can start from as little as Euro 9.11 per day, depending on the time of year you wish to travel. A Peugeot 107 can seat up to 4 passengers, while a Peugeot 207 or a Ford Fiesta has room for up to 5 people and up to 3 pieces of luggage.
Automatic car rental Lamezia Terme International Airport vehicles include the Ford Focus and Volkswagen Polo among others, while the exotic/special range of hire cars has the Renault Megane Cabriolet and the Peugeot 206 Cabrio to offer. Families will prefer more space and a Ford Focus station wagon costs from as little as Euro 248.75 for a 7 days rental period.
For even more space requirements the Mercedes Vito is ideal, seating up to 9 passengers and offering space for up to 8 pieces of luggage - this minivan is the perfect choice for large families and groups of friends travelling together. The vehicle can be rented from Euro 483.90 for a 7 day holiday from car rental Lamezia Terme International Airport stations. Offering slightly less space is the Ford Galaxy minivan seating up to 7 people. Prices for a 7 day rental start from Euro 658.40 for this vehicle.
Car hire Lamezia Terme International Airport offers visitors the chance to explore Calabria's mountainous regions of the La Sila, Aspromonte and Pollino mountain ranges as well as visiting the coastal towns of both the Ionian and the Tyrrhenian Sea.
The national parks in the mountain ranges offer rare flora and fauna to the natural history explorer and plenty of challenges to the hiker, while the sunny beaches and historic towns along the coast offer both cultural highlights as well as relaxation during your time in Italy's beautiful Calabria region.
Compare Car Rental Companies
What is the average daily price for renting cars month by month?
Note: This data was based on a comparison search completed on the 1st of this month. Prices here are indicative only, please use our car rental comparison tool to obtain accurate pricing for your specific dates
Nearby Car Rental Pick-up and Drop-Off Locations
Where are the fuel stations closest to the airport?
Car Brands Available to Rent at Lamezia Terme Airport
There are 129 different types of vehicles from 24 manufacturers offered by 26 car rental companies.
Whether you want to rent the same vehicle you have as your daily driver, or find something different to drive for your trip, the details below will show you which manufacturers and models are available from the many car rental companies.